So after being inspired by my man Navid Moazzez, I've decided to try my first lifestyle and business review post and see how it goes.
I sent this post out as an email to my list (condensed version) a few days earlier before posting it  on my blog and got a great positive response with plenty of people replying telling me I should do this more often, so I'll continue to do one every few months or perhaps every quarter.
So I'm not exactly sure how one of these posts go down, but lets have a crack at it and see what we can do with it.
1. I'm Currently Travelling Around the USA! (Writing this from NYC)
It's been an action packed end of July/start of August after having decided to hop on a plane and come to the US for a month.
While it's not all fun and games, I will be doing a lot of blogging and some new work too (I'll explain down below) but really enjoyed living out of the suitcase for the last 10 days or so visiting Boise, New York City and still have Miami, Las Vegas, Los Angeles and another week back in Boise left to go!
The trip has been lots of fun and very busy. I'm travelling around the states on my own which is a first, but its allowed me to explore some really great areas which I otherwise wouldn't have been able to see. I've also met up with a few friends too who have been able to take me to their regular bars and nightclubs which they go to (always good to go out with friends while overseas).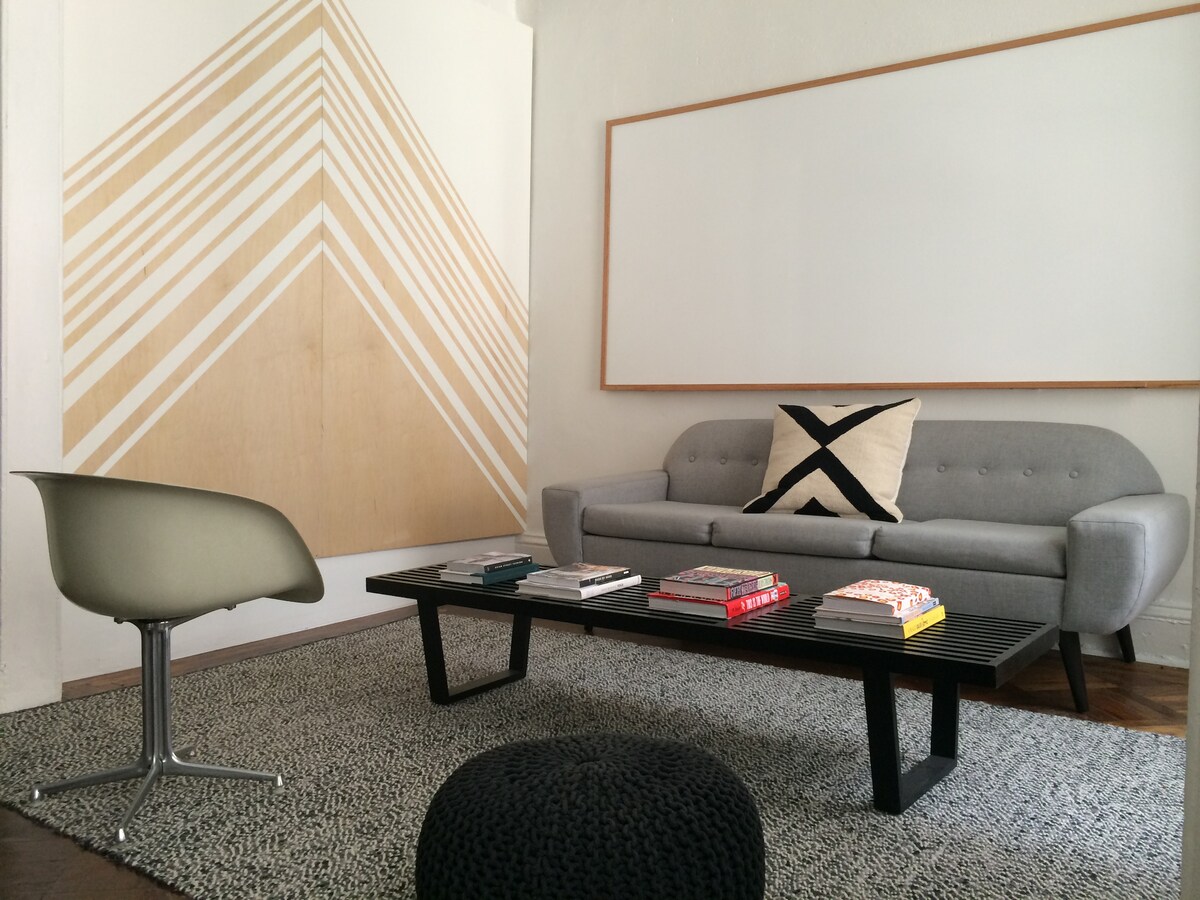 (Here's a photo of my AirBnb New York City Loft!)
You can see in the picture above a photo of what my loft looks like that I'm renting out while in New York. This was the very first time i've used AirBnb, but turned out great. Awesome location, awesome hospitality and awesome room. It was a good mixup from the regular hotel rooms which is where I was staying for most of the trip – so I highly reccomend checking out an AirBnb (they're a lot cheaper so you can get an AWESOME place if you spend as much as you would've at a hotel).
One thing about New York, it's the most 'hustle' orientated city I've ever been to in my life. The amount of energy which flows through the streets as soon as you walk out of the apartment is mind blowing. Everyone has somewhere to go, someone to see. After using Uber and taxis a lot, I was told to live in NYC, Manhattan you'd need $100,000 per year which would roughly place you in the lower end of the average household. It's an expensive area of the world to live, that's for sure.
I'm leaving to go to Miami on the 5th of August, so will be able to update this area of the post once I've been there.
2. I'm 'Head Of Content Marketing' at Clickfunnels
I've recently been offered a position with Russell and the team over at Clickfunnels and will now be in charge of their content marketing and some other areas of paid marketing for the company moving forward.
I've been a massive fan of Clickfunnels since it launched (I use it every single day with clients and my own businesses) so I couldn't be happier to start delivering some of my strategies and funnel expertise to the Clickfunnels community from time to time. You can see to the left of this post in the sidebar the review that I've written up with Clickfunnels vs. Leadpages which is still getting a lot of traction online too.
What did we do in Boise with the Clickfunnels team?
One of the main reasons I came to the US was to meet the team and working on Clickfunnels in Boise, Idaho. We call it a 'Hack-a-thon' which means we hustle out as much work as humanly possible over the course of 5-6 days, working till 4-5am and waking up at 9-10am. I know running on 3-4 hours sleep isn't great for you, but when you work with a group of individuals who are talented, passionate and absolutely great blokes on a product which you all know is the best in the industry…sleep becomes an after thought.
We also had one of the best content marketers in the world Neil Patel (Founder of Crazy Egg, Hello Bar, QuickSprout & NeilPatel.com) come out to Boise and spend a day teaching us ninja strategies which we'll be rolling out across the blog and Clickfunnels in general.
Russell made a quick video about what we got up to in Boise and what you can expect over the next few weeks from Clickfunnels (at the time of writing this).
During the time we were 'hacking' away in Boise on everything Clickfunnels, I put together my first blog post which you can read above. It's the all in one post to learn how to funnel hack anyone and everyone. Please be sure to have a read of it and let me know what you think in the comments on the page.
3. Recent StephenEsketzis.com Website Resources
So while I've been travelling and working on some new projects, I've  also released and posted some epic value across my own website & podcast as I'm sure you've been keeping up to date with.
Be sure to have a read and listen of the latest:
Marketing On The Move Podcast:
The Blog:
The HotJar post is a review I've been wanting to write for some time as it's one of my all time favourite tools (I'll be tweaking and adding to the post as time goes on but I think it's a good start).
So what does the next few months hold?
Over the next few months I'll be doing A LOT of writing. Predominantly on the Clickfunnels blog and also will be writing on my blog more actively too. One of my goals for the end of 2015 is to raise my consistency in writing high quality content for my audiences and really putting out some epic value.
I'll also be wrapping up what's left of my USA trip with Miami, Las Vegas, LA and Boise (again) still to go which will be awesome.
While I'm back in Boise I'll be doing a presentation to over 100 people who will be in attendance at the funnel certification program which was offered exclusively at the Funnel Hacking event which has just passed. Hopefully I'll be able to snap some pics and share them with you all for the next post on the blog.
Anyway, wrapping it up, the last few months have been quite exciting, and there's a lot more on the way before the year finishes.
How are you going to make the remaining 5 months of the year count? How do you plan on making it the most profitable and goal reaching months of your business and life? Let me know in the comments below.